Upcoming Events
Save the Date
Annual Blue Jean Ball
Saturday, April 25
Joseph E. Zaloga American Legion Post 1520

---
---
Capital District NY2 Blue Star Mothers Events
---
2013 Holiday Troop Drive
Holiday Troop Drive
Colonie Center
---
9/11 Memorial Service
Colonie Central High School - Hill of Heroes
Click here to view pictures from our 5th Freedom Walk on September 11 at the Crossings in Colonie
---
Sam's Club Fundraiser 2017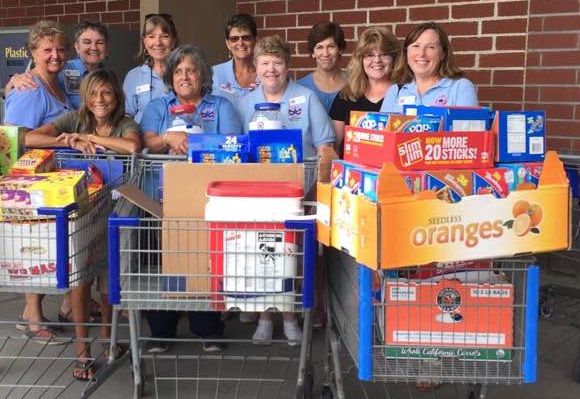 ---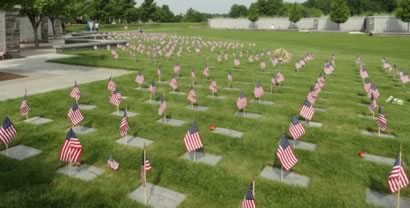 Laying Carnations at Saratoga National Cemetery
Saturday May 25, 2013
Volunteers placed more than 10,000 flags on gravesites of veterans. Blue Star Mothers placed carnations on the gravesites of spouses.
---
Blue Star Families Day

Assemblyman Steve McLaughlin (R,C,I-Melrose) welcomed members from the New York chapters of Blue Star Mothers of America to the Capitol in Albany to recognize the outstanding work they do for our military families and join with him in memorializing May 13, 2013, as Blue Star Familiesí Day in New York. Read more
---
Yellow Ribbon Day
Saratoga-Wilton Elks Lodge #161, April 12, 2013
Navy Cmdr. Vincent Perry son of Blue Star Mother, Bonnie Perry was the keynote speaker.

Bonnie Perry, Cmdr. Vincent Perry, Jr., Jim Tedisco, Vincent Perry, Sr.
Karen Curtis, Cmdr. Vincent Perry, Jr., Bonnie Perry, Janet Moran, Max Thorton
---
Wreath Laying at the Saratoga National Cemetery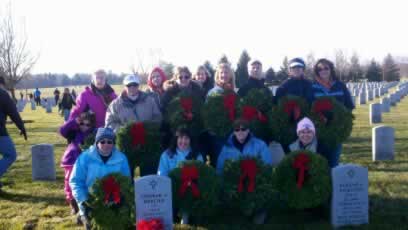 ---
Veteran's Day Parade, November 12, 2012
---
---
Guardian House Donation
On Saturday February 11, 2012 Peggy Snyder, Deb Bostic and myself took the $750 donation from the hardship fund to the Guardian House. I'm not sure what I expected a homeless women Veteran's shelter to look like but I was very impressed by this shelter. It is a 250 year old house that has been brought up to code while preserving the "bones "of the house. It is set on about 4 acres of land in the town of Ballston Spa. It is a very homey welcoming house. One resident that acted as our guide showed us around the house. She proudly showed us the improvements that had been made and told us about plans for the future. She is a Navy Vet with bi polar and depression issues. She was very proud she is soon going to graduate from 4 Winds (a Saratoga based psychiatric center) and plans on getting on with her life in a positive way. Residents must contribute up to $250 of their income in support of the house and are assigned 3 hours a week of a volunteer activity that supports the house e.g. shoveling snow. These women are given job counseling to help them secure meaningful, long term employment. They are given counseling on life skills e.g. budget issues, relationship building/repairing and living an independent life.
The Guardian House opened in October of 2011 so all the women housed there are the original occupants. Budd the Executive Director of SCRPC (Saratoga County Rural Preservation Company, Inc.) programs told us about the male homeless Veterans house located in Ballston Spa that has been opened for 12 years. There average stay is 9 months with an 86% success rate.
I'm excited BSM were able to contribute to this wonderful house in support of homeless women Veterans. If you have a Veterans support activity in your area please let BSM know so we can hopefully support it.
---
---